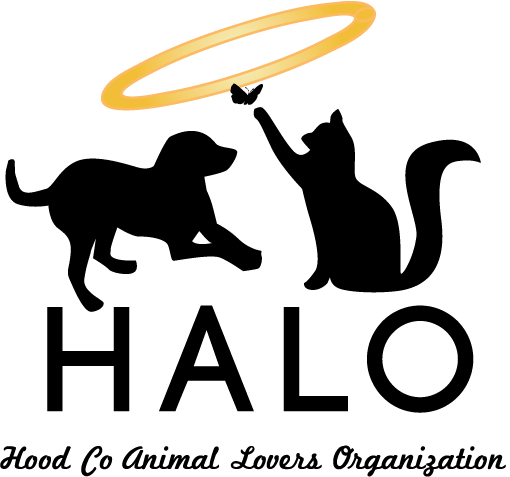 Finding a New Home for YOUR Companion Animal
There aren't enough homes for all the animals who need them.
About 13,800 dogs and cats are euthanized every day in U.S. Shelters.
Be sure you consider all the alternatives before giving up your animal to animal control facility.

Help! I need to rehome my Companion!
HALO is all about helping displaced animals in kill shelters find new homes and educating the community about the great (and not so great!) aspects of pet ownership.
We're approached daily by people looking to rehome their own pets, and while we don't have a facility and remain full in our foster program, this page is an effort to help people seriously considering rehoming make the best decisions for their pet.
First and foremost what anyone thinking about giving up a pet should consider is that this pet is your responsibility. Even if you can't keep him anymore, your pet still depends on you to do what's best for his future. It'll take time, effort, patience and persistence to find him the right home.
Also, please do your pet & the rest of the world a favor by making sure your dog or cat is spayed or neutered before you release ownership to someone else. Doing so is the responsible thing to do. It will make it easier for you to find a new home for your pet, & will help to prevent more unwanted litters of puppies.
Steps to take to rehome my Companion:
Spay / Neuter your Companion

Make sure all vaccinations are up to date including rabies
Bathe & Groom your pet
Take good pictures of your pet
Make flyers and put them up at local pet shops, feed stores, your workplace, local coffee shop & other places around town.
Put an ad in the newspaper
Email everyone in your email address book. Include a picture and details about your pet & attach your flyer for them to print and put up in their workplace.
Contact friends and family members
Contact rescues to see if they have room. Click here for a list of over 500 rescues in Texas that are both General & Breed Specific.
PLEASE do not just turn your pet loose "out in the country". Under Texas Penal 42.092 it is a Class A Misdemeanor to abandon an animal which is a punishable by a fine, jail or both. Abandoning an animal is one of the cruelest fates any domestic pet could meet. The fear, abuse, and suffering they will encounter is heartbreaking if they even manage to survive at all. Starvation, injury, exposure to the elements & lack of water will lead to extended suffering and eventual death. Dumping is the most inhumane thing to do to the animal that only wants your love and care.