"A Second Chance For Love"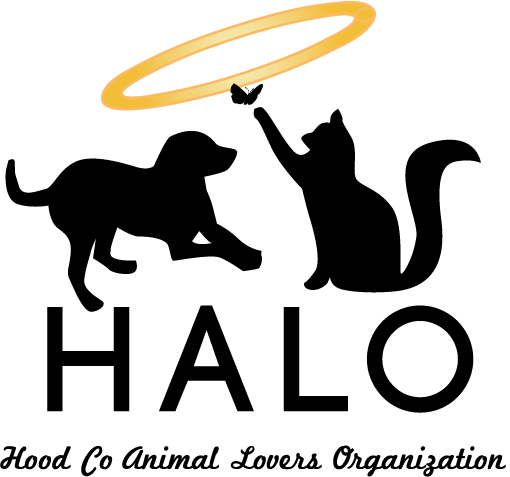 Volunteer Program
You can make a difference! There are a variety of ways that individual volunteers contribute to our mission to rescue and provide safe and responsible care for homeless, abandoned, and abused animals. Whether it's hands on with the animals or working behind the scenes, there is something for everyone! No experience is required, we can provide training and mentoring for all new volunteers of HALO – Hood Co Animal Lovers Organization.
Foster Parents provide temporary housing for homeless pets until permanent, loving homes can be found.
Animal Support volunteers transport and handle dogs or cats at adoption events, clean cages, help in our local animal control facility and provide general support to our foster parents.
Animal Transport volunteers provide assistance transporting animals to veterinary appointments on occasional mornings, evenings, or both.
Education volunteers research and notify HALO volunteers of upcoming seminars and classes in an effort to achieve continuing education. Volunteers also develop ways to educate the public on the importance of animal care and sterilization.
Fundraisers plan short-term (e.g., bake & garage sales) and long-term events (e.g., Pet Fair, Golf Tournaments) and we are always looking for fresh ideas. In addition, some fundraisers write grants to fund specific projects.
Public Relations volunteers generate and maintain media contacts, write press releases, promote events, and attend community events to promote HALO.
Graphic Design volunteers take photographs and design printed materials to advertise special events and ongoing efforts to find homes for our animals.
Photographers volunteer take pictures at events and of the animals to promote on our website, facebook & adoption sites.
Sponsorship & Donations volunteers go out into the community to seek sponsorships and donations for HALO to help displaced animals. 100% of funds entering HALO go to help the animals.