If you would like to Sponsor one of our beautiful companion animals you may do so through their Petfinder listing. Simply click on their picture below to view more information about them and/or to Sponsor their care.
Thank you in advance for your support!
Instructions for adopting a HALO companion animal:
Fax to 817.579.9737
A HALO representative will contact you to arrange a visit.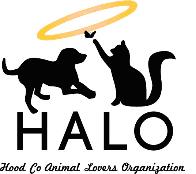 Available Companion Animals
Companions over 6 months of age:
Adoption fee: $120
Companion is up to date on vaccinations including rabies
Spayed/Neutered
Heartworm tested
Cared for in a home with a loving family.
Puppies under 6 month of age:
Adoption fee: $120.
Puppy is wormed
Vaccination program implemented
HALO will pay for all remaining vaccinations at the time of adoption including rabies & spay/neuter when ready
Puppy is cared for in a home with a loving family