All our available dogs are in foster homes. We can only rescue as many as we have foster homes available. If you are interested in becoming a HALO foster, contact Linda Oeller at 817-564-2085.

Instructions for adopting a HALO companion animal:
Complete & Email the Application hoodcoanimalloversorganization@gmail.com or

Phone the HALO representative listed on the pet's info.
A HALO representative will contact you to arrange a visit.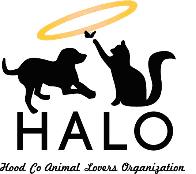 Available Companion Animals
Companions over 6 months of age:
Adoption fee: $120
Companion is up to date on vaccinations including rabies
Spayed/Neutered
Heartworm tested
Cared for in a home with a loving family.
Puppies under 6 month of age:
Adoption fee: $120.
Puppy is wormed
Vaccination program implemented
HALO will pay for all remaining vaccinations at the time of adoption including rabies & spay/neuter when ready
Puppy is cared for in a home with a loving family