Since HALO's establishment in 2011,we have rescued and rehomed close to 500 pets. Here are some of our recent success stories.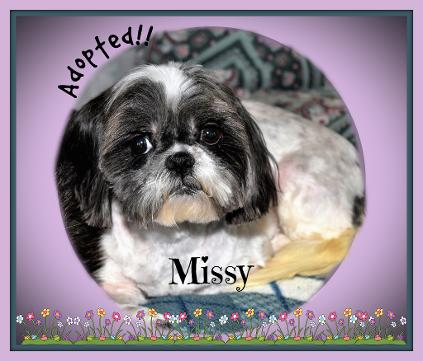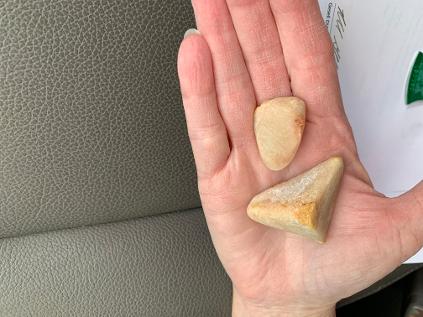 HALO rescued Missy from Animal Control where she was brought in as a stray. She had symptoms of a bladder infection which we thought could be cured with a course of meds. Much to our surprise, she had bladder stones! Big ones! She had surgery and had them removed but didn't seem to bounce back as she should. We quickly discovered that the repair to her bladder failed and she was infected with the leakage. Another surgery and about a week at the vet's in intensive care. It was really touch and go for awhile. But Missy ultimately survived, then thrived, and was ready for adoption. Missy went to a home that was healing from a broken heart due to the recent loss of a loved one from cancer. Her adopter often says that Missy came in to her life at just the right time.
FYI, Missy's treatment was over and above our adoption fee. HALO relies on donations to cover such expenses.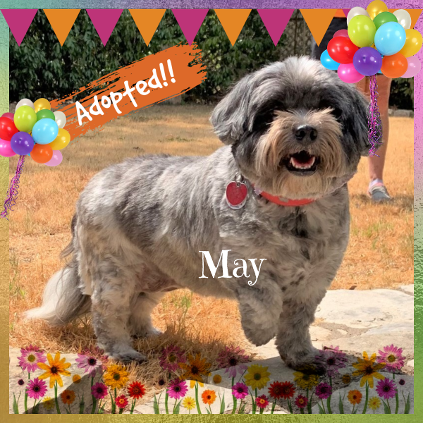 May was originally adopted in 2013 through HALO to a wonderful home. But after the unexpected death of her beloved owner in 2019, May probably thought her happy days were over. She was surrendered back to HALO by the family. It wasn't long beforeMay got a second chance for love with a new family and a new life! We are so happy her story has a happy ending!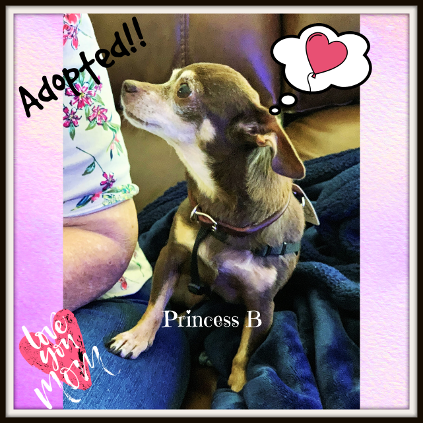 Princess was rescued from Hood County Animal Control. She was sad and depressed about her current situation! All Princess wanted was a ready lap and a soft blanket to burrow under. Princess was adopted by a wonderful lady who was lonely for a sweet companion, and is more than willing to give Princess all the lap time she desires! Princess's look of love to her new mama says it all!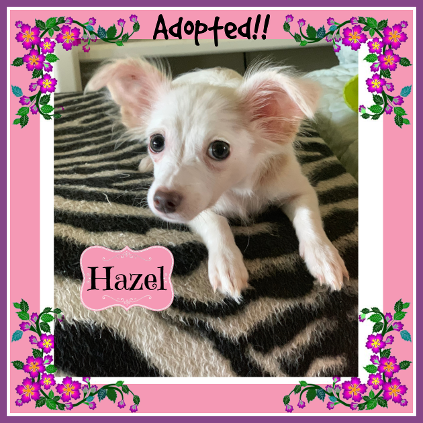 HALO rescued Hazel from a bad situation and she was totally covered in fleas when we got her. Plus, she was a wild little puppy and her foster mom had her hands full getting Hazel ready for adoption. But little Hazel must be growing up because she got an office job when she was adopted! She goes to work with her new mom and helps run the office. And she is being pampered and spoiled. From a dirty flea-bitten wild child to a clean cut office gal. It's a great life for Hazel thanks to Halo's help!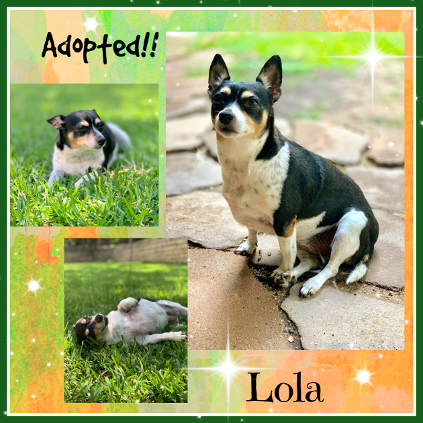 HALO rescued Lola out of Hood County Animal Control where she was taken when her elderly owner could no longer take care of her. Her whole life was turned upside down! But now she has a new home with people who can take care of her and play with her. Her new mom found Lola with her toyson the bed with her little niece who explained: "Lola and I are playing with our stuffed animals."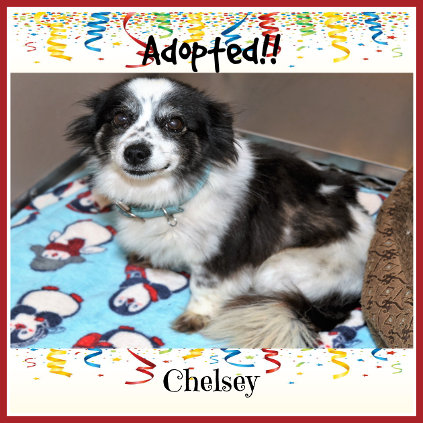 HALO rescued Chelsey from Hood County Animal Control after her long-time owner moved to a nursing home. Chelsey was a brave girl during her transition to a HALO foster home, and it didn't take long for her to find her new forever home. Now she has a new mama and Chelsey is sticking to her like glue!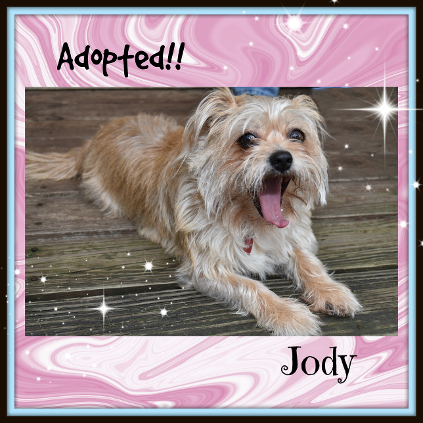 Jody was surrendered to HALO by her previous owner due to the owner's health issues and a pending move to a location that would not be ideal for Jody. But don't worry. HALO screened the many applicants who were looking to take this adorable girl in to their homes and we found the perfect home for sweet Jody. She now has a doggie brother and they are sharing each others toys and having an overall blast.
Sweet Apple Blossom was a very special case for HALO. We rescued her out of Hood County Animal Control. We knew she had a limp, but what we didn't know until we got her to our vet is that she has a severely crushed pelvis! To make matters worse, after she came to her HALO foster home she came down with a severe cough that took several vet consultations and meds. Her situation was truly touch and go. But, she recovered and was eventually adopted! We get the sweetest updates on her and she is doing just great. There's a rumor that she has been known to sing along with her doggie siblings. From death's door to being in a doggie choir, it doesn't get much better!